Roof Cleaning Indian River Shores
Indian River Shores
Roof Cleaning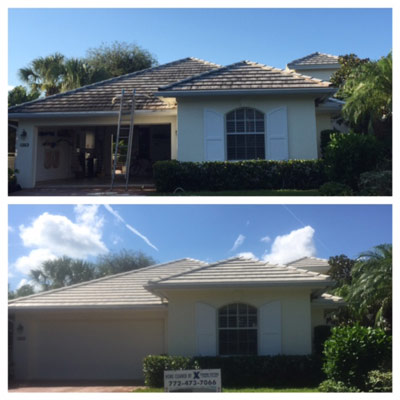 When it comes to seasonal maintenance of home exteriors, many homeowners in Indian River Shores forget about their roof. Many prefer to focus on the more easily noticeable and accessible aspects of their home such as their siding, windows, driveway, etc. But what they may not understand is that maintenance of the roof is just as important as the care of the other parts of their home. This is why Clean That Building offers high-quality professional roof cleaning services for residential and commercial properties in Indian River Shores.
We understand the importance of a clean roof. A clean roof is free from debris or streaks, and efficiently directs any water into the gutters. If you have leaves, pine needles, or black streaks on the shingles, or moss growing between your shingles, it can be more than just ugly. These things all retain moisture, and that moisture fosters more debris and growth, and it's a vicious cycle that can end up meaning water under your shingles or in your home. We see this on the shady sides of homes in Indian River Shores, and sometimes on homes with many trees overhead. Clean That Building knows how important your roof is, and we will rid your roof of debris and contaminants just as if it were our own. There are a few reasons why you should take roof washing very seriously:
Prevention of Roof Moss, Lichen, and Algae
When a roof has black streaks on it, it is likely caused by a type of algae. These dark streaks, as well as the growth of various damaging microorganisms like moss and lichen can reduce the lifespan of your home's roof, thereby causing you to need a roof replacement sooner. Our roof cleaning service can gently and effectively rid your roof of these contaminants. For something like black streaks on your roof, typically our service consists of an application of cleanser, and a low-pressure rinse. Our Indian River Shores roof cleaning service is perfect for any type of roof, including asphalt shingles, aluminum, tile, shake and more.
Boosting Curb Appeal
If you plan on selling your home soon, a sparkling clean roof is a great way to boost your curb appeal. Combined with our other services, roof washing is a great way to transform your entire property! A clean roof will undoubtedly help you fetch a higher price for your home if potential buyers are confident that they won't need to replace the roof after moving in.
Cost Saving
Besides extending the life of the roof, assembling the tools required to perform a proper roof washing would be cost prohibitive for the average homeowner, and it wouldn't make sense to buy very expensive specialized tools only to use them a few times per year. We've all tried store bought roof washing kits and been disappointed with the results. They never seem to be as good as the commercials make them out to be.
If you're looking for a complete and thorough roof cleaning this year, turn to your neighbors at Clean That Building. Give us a call today for a free estimate on our roof cleaning services in Indian River Shores or any of our other services. We look forward to hearing from you.
See Why Our Customers Love Our Results!