Window Cleaning Fort Pierce South
Fort Pierce South Window Cleaning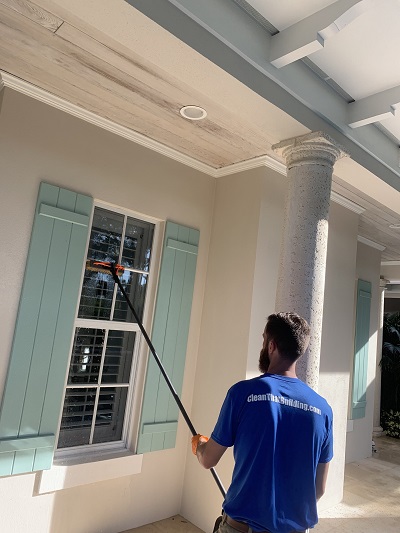 Clean and sparkling windows can make any property look glamorous and stunning, but it is not without challenges. If you're looking to sell your property, or if you're just tired of dingy views, our professional window cleaning service will make your windows crystal clear.
Cleaning windows from the outside can sometimes involve risks since they can be on upper floors, above bushes, or otherwise difficult to access. It is wise to leave window cleaning to the pros as they take all the necessary precautions while doing this task.
Our experts at Clean That Building in Fort Pierce South will make sure your windows are sparkling, no matter what the outdoor conditions might be like. Here are some challenges you may face in outdoor window cleaning:
Inclement Weather – Depending on which time of the year you want to clean the windows, the temperature outside can be a challenge. Besides being uncomfortable, it may make cleaning more difficult. The cleaning solution might freeze during winters or evaporate rapidly during the summer. It can also be difficult if it's raining or windy. With professional tools and the right training, cleaning windows in any condition is possible!
Our window washing experts at Clean That Building in Fort Pierce South are equipped to handle such challenges. They make sure that no drip marks or swipe marks are left on the windows, and they are spotlessly cleaned.
Climbing – Cleaning the outside of the windows can be pretty dangerous for an inexperienced person. It can be difficult to concentrate on the job at hand, all the while worrying about the height you are working from. Cleaning windows for the average homeowner would often involve a ladder or hanging dangerously out of the upper floor's windows. This could lead to severe accidents, resulting in fractures and other grave injuries.
Our window cleaning experts at Clean That Building in Fort Pierce South have the right equipment to ensure we can clean almost all windows without leaving the ground.
Right Equipment – Proper outdoor window washing is a must because simple cleaners and sponges, or paper towels will leave you with streaks that look worse than when you started. Our expert technicians at Clean That Building use specialized brushes, specially formulated gentle detergents, squeegees and towels that all let us quickly and easily leave you with a streak and spot free crystal-clear window every time.
Our window cleaning experts at Clean That Building in Fort Pierce South are committed to providing you with the best window washing service so that your property looks its best. You do not have to stress about the outdoor conditions and safety the next time you want your windows cleaned. If you would like to know more about how we clean your windows, or what it might cost to clean them, give us a call today and we would be happy to give you a free estimate. We have been serving Fort Pierce South for many years and have had many satisfied customers. We look forward to hearing from you, and bringing you crystal clear views!
See Why Our Customers Love Our Results!