As a homeowner, you know that maintenance of your property is important, but often times things like roof cleaning can get placed on the "back burner." Many homeowners postpone roof cleaning because they are unable to easily do it themselves. However, waiting too long between cleanings can create a recipe for disaster on your roof.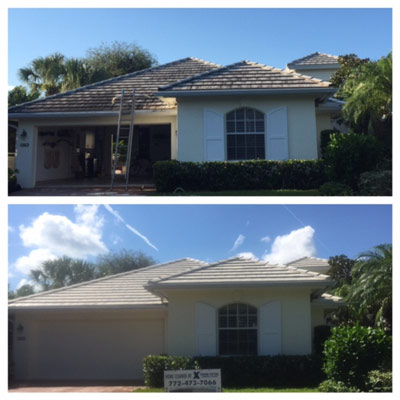 Given its importance, we at Clean That Building are pleased to inform you that we specialize in safe and effective roof cleaning services in Vero Beach. We have performed many roof cleanings in Vero Beach and have had many satisfied customers. We think we're the best roof cleaning company Vero Beach has to offer, but you don't have to take our word for it. When you're looking for a company to help make your roof sparkle like it did when it was new, consider the following:
Choosing the Right Company
If the choice isn't clear right away, there are some things you should look for when comparing your options. It is tempting to opt for the cheapest service or the first service you see, but you don't want to risk the safety of your roof. Clean That Building technicians have outstanding washing skills and they are highly trained so that they deliver water and detergents only where they want them. Not in your vents, not down your chimney, etc.
Years of Experience
The length of time a potential roof cleaning company has been in business can speak volumes to their practices. If a company has been around for a long time, they probably know what they're doing. This also allows them to collect reviews over time and build up a reputation in the community.
Lasting Reputation
Evaluating the online feedback for completed roof washing projects helps you assess the level of customer satisfaction achieved. Poring over reviews should get you some sense of the ability of the company, and if there are pictures of before and after the project was completed, those too should give you an idea of what the company is capable of.
Such first-hand accounts help you better understand the potential service provider's skills and abilities.
Price Structure
The costs for services provided play a vital role in your selection process. The size of your roof may play a role in how much the service will cost, but excessively high fees must be suitably justified with results. On the other hand, you should beware of roof washing companies in Vero Beach offering unbelievably low rates.
Washing Technique and Tools
A qualified roof washing contractor knows that different roofing materials demand a unique cleaning approach. We assure you that our roof cleaning experts monitor the water pressure and use only non-toxic cleaning solutions. Every Clean That Building technician is certified to operate the powerful roof washing equipment. We responsibly and safely execute the task without causing any damage to people or property.
We are a locally owned and operated roof cleaning company, and we have been making our community's roofs sparkle for many years. We have collected many five-star reviews, all of our technicians are highly trained, and we use top-notch equipment. It's easy to see why so many people trust us to clean their roofs in Vero Beach. If you'd like to know more about our process or receive a free estimate, give us a call today!
See Why Our Customers Love Our Results!