Window Cleaning Vero Beach
Vero Beach Window Cleaning
Sparkling windows create the perfect first impression when someone is taking a tour of your property. While window washing is not a particularly difficult task under normal conditions, it can be tricky to get the results you want unless you have the proper tools, and know what you're doing. If you're trying to clean windows with a rag or a newspaper, you'll probably end up with streaks. Often what we do is use mild detergents to gently lift dirt, pollen, and other contaminants from your windows, then squeegee everything away. The window cleaning technicians at Clean That Building have been serving Vero Beach for many years, and they know how to get you a streak free shine! We are the most trusted window washing company in Vero Beach.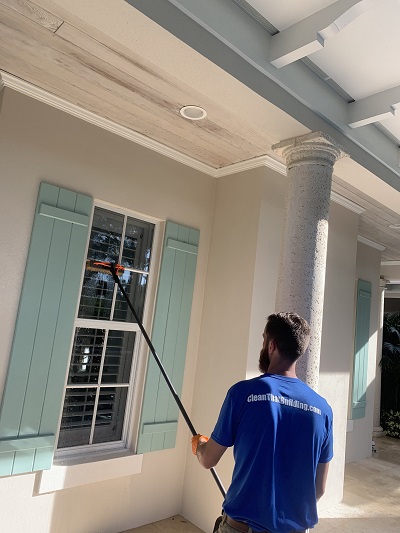 Simply spraying the windows with water from your hose won't do the trick. It doesn't matter how high or low the pressure is. Unless you're using a pure water system, water droplets will probably leave spots because of the minerals naturally occurring in our water. To ensure you get a streak free shine every time, call the expert window cleaning team at Clean That Building in Vero Beach to take care of it for you. There are other reasons to let the experts handle your window washing project. Here are a few:
It's Not Just Dirt: Since windows are exposed to weather elements, dirt and debris and all kinds things can get stuck to the glass and lodged between the sills. Your screens may help with some of this, but they may need cleaning, too.
Window Glass is Fragile: You shouldn't have to scrub and scrub to get windows clean. In fact, scrubbing may leave scratches, especially if it's done with something abrasive like a scouring pad. You may even break the glass if you press too hard.
Different Techniques for Different Windows: Speaking of fragile, not all windows are the same. Single pane windows can be quite fragile, especially if they're older. Windows on different sides of your home might also be dirtier than others. The side of your home that faces away from the sun will likely have dirtier windows because the moisture takes longer to evaporate. While it's there it attracts dirt, and the next time it rains, that dirt holds in moisture for longer, making a vicious cycle. A different window washing technique should be applied to each window, depending on what kind of window it is, how dirty it is, and what the contaminant is.
Risk of Falling: Depending on how your home is configured, DIY window cleaning may just be practical. You shouldn't risk trying to balance on a ladder or try to lean out of one window while you clean another. We have tools and safety gear to ensure that we can complete our window washing project safely and efficiently. It's not worth the risk. Call Clean That Building in Vero Beach before you start your next window cleaning project!
Give us a call today if you'd like to schedule a window cleaning in Vero Beach. We would love to work with you.
See Why Our Customers Love Our Results!